Onyx bundles:


3D plant creators:






Max plugins:


Renderings:

Free plants:

And finally:





Onyx2Max is a plugin for 3ds Max 2014, 2013, 2012, 2011 and 2010 which imports ONX files into Max scene.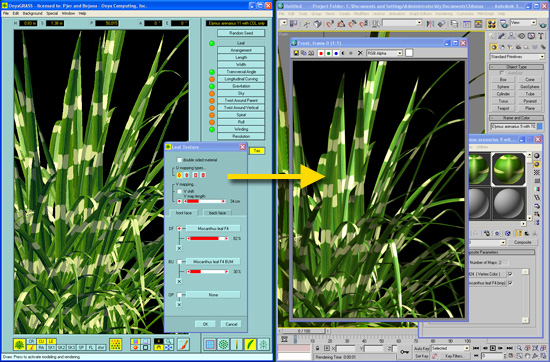 On the left is OnyxGRASS screen with leaf texture dialog, on the right is Max render window.



What is ONX file?
ONX file is a proprietary Onyx Computing 3D file format we have developed to suit the needs of our modelers. At this time, the only 3D rendering and animation package that reads ONX files is Max via Onyx2Max plugin. The advantages of importing our vegetation to Max as ONX files are immense. Besides carrying 3D geometry and UV mapping coordinates, ONX file stores color-per-vertex data and material data including the textures. And, it goes without saying that ONX file is not limited to 64k vertices and/or faces per sub-material as is the case with 3DS file whose 64k limit will result in any number of split sub-materials for large objects which will make these objects cumbersome and time consuming to manipulate.

Currently, the only Onyx modeler that supports all the features of ONX file format is OnyxGRASS. So, when importing grasses to Max, ONX file will deliver render ready 3D objects. The other Onyx modelers, i.e. OnyxTREE BROADLEAF, OnyxTREE CONIFER, OnyxPALM, OnyxBAMBOO, and OnyxFLOWER, do not export textures and material attributes because the software does not allow you to set these parameters. However, ONX export in these modelers allows you to take the full advantage of their color-per-vertex feature because ONX files will carry color-per-vertex data into Max.



Key features of ONX file

ONX file is suited to store 3D objects which are built out of triangulated polygons. There is virtually no upper limit on the number of 3D vertices and faces that can be stored in the file.

All Onyx modelers support color-per-vertex (CPV). This feature contributes greatly to the photorealism of our trees, palms, bamboos, flowers, or grasses. Color-per-vertex allows the richness of natural color shades on trunks, culms, branches, twigs, stalks, leaves, and flowers to show up briliantly on our models. The main problem, so far, has been the fact that not many 3D object files and rendering packages support color-per-vertex. So, there has not been much opportunity for our models to shine outside the confines of Onyx modelers. By fully supporting color-per-vertex, ONX file and Onyx2Max plugin are changing that. Now, you can take the full advantage of this feature in Max environment, if you choose to import Onyx plants into these programs via ONX file.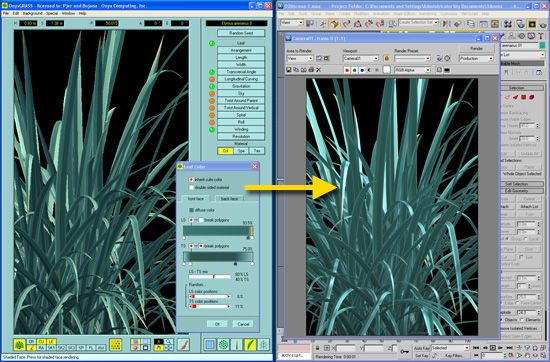 On the left is OnyxGRASS screen with leaf CPV dialog, on the right is Max render window.


ONX file carries materials including specularity attributes which are fully compatible with 3D Studio Max materials. So, when you import Onyx plant into 3D Studio Max via ONX file, the material values for this plant will show in Material Editor and you will not have to set them there unless you wish to change some. Onyx plant imported as ONX file will be render ready.


ONX file carries UV mapping coordinates for controlling the ways the texture will be laid down onto specific part of the 3D object. The UV's are customized to make textures emulate certain elements of a plant such as the tree's bark, for example, in the most convincing ways.


ONX file carries the file names of textures for particular parts of the plant. When you import ONX file into Max, the specified texture files, if there are any, will be opened, the textures will be registered in Material Editor and mapped onto the corresponding parts of the 3D object. You will not have to do any additional work, Onyx plant imported as ONX file will be render ready.



System Requirements

At least one Onyx modeler -- OnyxTREE BROADLEAF, OnyxTREE CONIFER, OnyxPALM, OnyxBAMBOO, OnyxFLOWER, OnyxGRASS.
Max 2014 or Max 2013. The previous Onyx2Max versions require the respective Max2012, Max 2011, Max 2010, Max 2009, Max 2008.

PC with Intel, AMD or compatible microprocessor.

MS Windows 8, 7, Vista or XP operating system



Onyx2Max software package contents